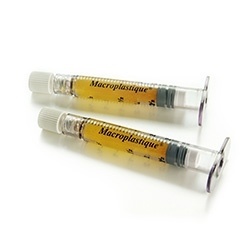 Our facility uses Macroplastique® Urethral Bulking Agent. For more information, talk to your doctor or view the Macroplastique Patient Education Brochure
Urethral Bulking for Stress Urinary Incontinence
Urethral bulking is a less invasive treatment option for women with a specific type of stress urinary incontinence (SUI) called intrinsic sphincter deficiency (ISD). In these women, the muscles surrounding the urethra can no longer close properly to hold the urine in the bladder.
What happens during a urethral bulking procedure?
The bulking agent is injected into the tissues surrounding the urethra. The increased "bulk" allows the urethra to close more effectively and prevents urine from leaking.
The procedure can be performed in your doctor's office, in an outpatient clinic or hospital in approximately 30 minutes. Prior to the procedure, the doctor will give you an antibiotic to reduce the risk of infection. Upon the start of the procedure, the doctor will give you local anesthetic in the tissues near your bladder to reduce discomfort.
A small optical instrument (cystoscope) is placed in the urethra during the procedure to allow your doctor to view your urethra and bladder while injecting the bulking agent into the surrounding urethral tissue. Your doctor will also fill your bladder to halfway with water or saline to better view the implantation area. The cystoscope is removed after the injection and your treatment is complete.
What can I expect after the procedure?
Most women can expect:
To stay at the treatment facility until the numbness from the anesthetic is gone and they can urinate on their own. If you have difficulty urinating after the procedure, a catheter may be inserted temporarily until you urinate normally. You may also be taught self intermittent catheterization and sent home.
To take antibiotics to reduce the risk of a urinary tract infection.
To resume normal daily activities and return to work within a few days.
Your doctor will provide you with more specific instructions about your own recovery and if any restrictions on normal activities are recommended.
For More Infomation, please contact:
CONTACT INFORMATION GOES HERE
Macroplastique is a registered trademark of Cogentix Medical. Image used with permission.